The Promotions Engine was built to replace an existing Promotion and Campaign Management system. The purpose of the replacement was to support an internal re-architecture which would result in the existing system being unable to function as desired. The new Promotions Engine would offer increased flexibility in the types of Campaigns and Promotions that could be run. 

Whilst I was initially working as a Business Analyst on this project, as a result of my UX knowledge I was asked to help with User Research and Usability testing for the Bet Tribe. I was also asked to design the interface for the Promotions Engine. At the point of design, it was not determined whether this UI was going to be built, or an existing UI adapted and applied. Whilst the final decision was a financial one, and concluded that the existing UI would be adapted in order to save costs, the project process still taught me a lot, and as such is documented here.
Business Analyst and UX Designer
User needs and pain points were collected through user interviews. The Core User Needs were identified as follows.

The interface need to clearly display what stage each promotion is in
The user needs to easily be able to see which promotions are live, how long they have been live for and how much longer they will be running for. This information is crucial as it is used to calculate how much a promotion is costing the company and therefore feeds into how future promotions are run. It is also used to help determine if a promotion is going to cost more than it was originally though to cost, so that this can be highlighted to the business early and remedial actions be taken where necessary.
The interface needs to provide supportive and useful error handling
In the existing system when a user inputted information incorrectly the system would not always tell them what they had done wrong or what was required to rectify the situation. This led to large amounts of user frustration and increased the risk of a user inputting information incorrectly. Because of this, large amounts of time were spent on user training and only certain users were able to set up promotions due to the un-intuitive system and the poor handling of errors.
The interface needs to be intuitive and clear from irrelevant clutter
The existing system contained input fields and sections that the current user never used, and some which they didn't even know the purpose of. This is a result of the system being many years old, and as such functionality had been added to it over the years, some of which was only used for a short amount of time and was not removed once it was no longer required. There were also a number of input fields and sections with ambiguous names and no description, which meant users never used them because they didn't fully understand their functionality.
The interface needs to be future-proof
The Promotions Engine was being built as an MVP. However, there was a clear backlog of post-MVP functionality and plans to expand the Promotions Engine further. One of our users biggest concerns was that each time a new piece of functionality was introduced wee would have to re-work the interface design and as such users would no longer know where to find things or how to conduct their daily activities. Given the high-cost of setting up a promotion incorrectly, design continuity is of great importance to the users.   

Usability tests were conducted with wireframes

These were then developed into clickable prototypes. We had to consider which functionality was most important to the user in order to prioritise what would be delivered to the user first.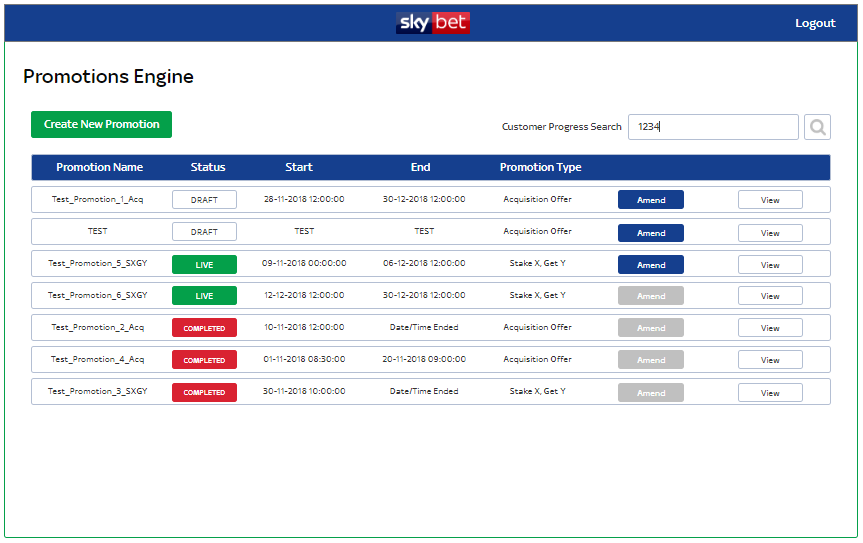 As each promotion has a number of fields associated with it, not all of them could be represented on the dashboard. In order to determine which fields were most important to the users, I conducted a card sorting exercise.

Clickable Prototypes were developed in Axure for each of three core promotions.
These were validated with the users and with the in-house UX team.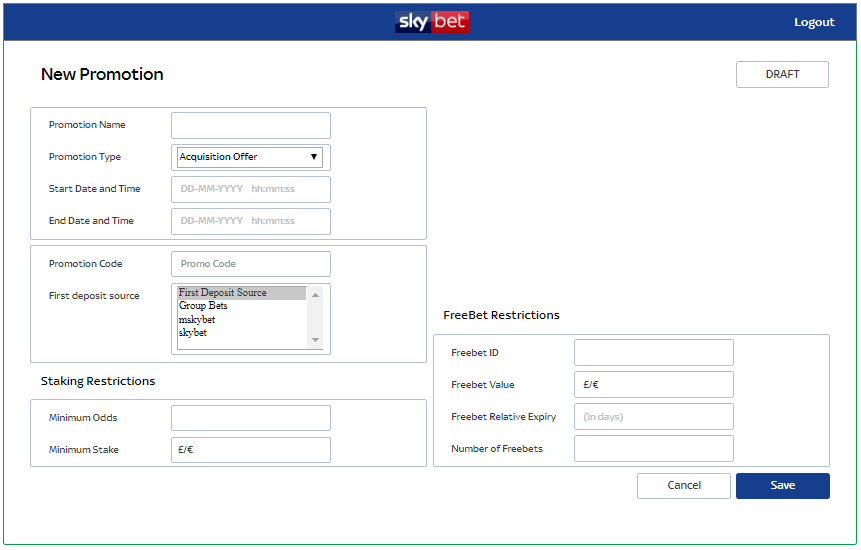 This project gave me the opportunity to refine my UI design skills and learn from more experienced in-house designers at SBG. This was also my first experience working with a corporate style guide and as such was a great learning experience. 
I really enjoyed combining my UX Research skills with UI design skills in this project.